Outreach
First Presbyterian Church of Homewood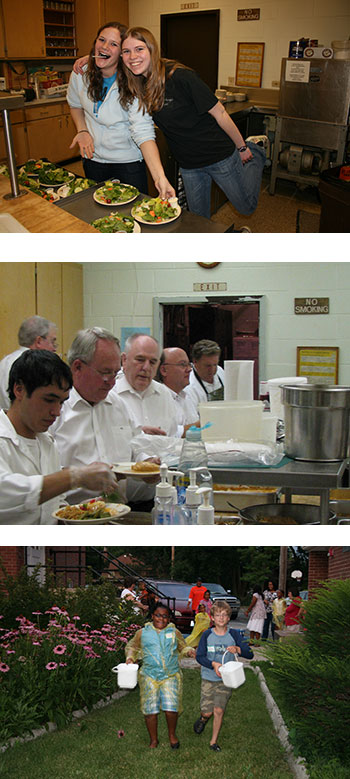 Jesus said, "Which one was the neighbor.....?" The man replied, The one who showed him mercy." Jesus said to him, "Go and do likewise." (Luke 10:36-37, adpt.)
Financial and Hands-on Mission Support & Involvement
At First Presbyterian Church of Homewood, we wish to be good neighbors by serving those around us and participating in our community's activities, such as Farmer's Market and offering goodies for Trick or Treat. Alcoholics Anonymous, Alanon, and Emotions Anonymous meet weekly in our building. (Call for a schedule.) We also welcome scouts and other groups with 501(c)3 status.
During Lent we host the Tuesday Community Lenten Lunches and Services co-sponsored by the South Suburban Interfaith Ministerial Association, with offerings supporting Respond Now, a local agency that helps people with emergency needs.
Financial and Hands-On Mission
Believing that we are all ministers to each other, our congregation supports a variety of local, national, and international missions, including South Suburban Family Shelter, Respond Now, and Jones Community Center in Chicago Heights. Our congregation supports Presbyterian Disaster Assistance, and our denomination's Shared Mission, which among other areas funds mission partners around the world in medical, educational and evangelism ministries.
In addition to financial support of various groups and social service agencies, we provide opportunities for members to participate in hands-on service to others.
We have donated, assembled and sent hundreds of Hygiene and Cleanup Kits for distribution through Church World Service. We collect canned goods and school supplies for Jones Center, and offer weekly Community Dinners on Monday nights. We have hosted the "Operation Ditty Bags" for the USS Chicago submarine for twenty-five years, packing care packages for the sailors and their families each Friday aafter Thanksgiving.
We participate in our denomination's "Five for Five" campaign, receiving special offerings for One Great Hour of Sharing (received Palm Sunday), Pentecost Offering (received on Pentecost), Peacemaking Offering (received first Sunday of October on World Communion Sunday), Christmas Joy Offering (received in Advent) and Basic Shared Mission.
Other annual special offerings include Mother's Day, Easter, and Thanksgiving, all of which benefit local agencies working to meet the basic needs of all individuals.